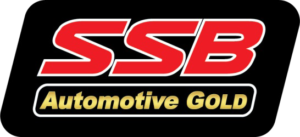 • Die Cast Grid Technology
• High Performance Maintenance Free
• Superior Cranking Power
• Non-spillable/sealed
SSB Automotive Gold series
The SSB Automotive Gold series is our premium range for automotive batteries. These Cast Calcium-Calcium batteries are developed in Australia by Australians to meet the ever-increasing needs of modern vehicles whilst standing up to our harsh environmental conditions.
Featuring Die-Cast Grid Technology, the plates are formed and cast in a mould that creates a solid, sturdier frame around each plate. This helps protect its weaker inner components. Despite being one of the cheapest batteries available today, the manufacturing process ensures that the SSB Automotive Gold series results in better conductivity of current, lower internal resistance, longer service life, and overall battery performance.
The SSB Automotive Gold series batteries are genuinely maintenance-free. They are filled and heat-sealed at the factory. All you need to do is install the battery. You won't need to add water at the time of purchase, or any time after. SSB Automotive Gold batteries are manufactured to Quality Assurance Standard ISO 9001 and come with 36 Months National Replacement Warranty.
or click here to search for SSB Automotive Gold series car batteries near me.
Part Number
Volts
CCA
RC
AH
Dimensions (mm)
L x W x H x TH
Weight (Kg)
Terminal
Assembly
Terminal
Type
SS40Z/ZA
12.8
400
60
32
195 x 126 x 201 x 222
9.8
1
SP
SS40ZL
12.8
400
60
32
195 x 126 x 201 x 222
9.8
0
SP
SS40ZAL
12.8
400
60
32
195 x 126 x 201 x 222
9.8
0
SP
SS41
12.8
400
60
32
236 x 128 x 178 x 198
9.8
1
DF
SS43
12.8
400
60
32
236 x 128 x 178 x 204
10
0
DF
SS43M
12.8
450
70
35
236 x 128 x 160 x 184
10.5
0
DF
SS60L
12.8
520
80
40
236 x 128 x 200 x 222
11.7
0
SP
SS40T/60
12.8
520
80
40
236 x 128 x 200 x 222
11.7
1
SP
SS40TL
12.8
520
80
40
236 x 128 x 200 x 222
11.7
0
STD
SS50P
12.8
680
110
50
230 x 173 x 180 x 200
14.4
1
STD
SS50PL
12.8
680
110
50
230 x 173 x 180 x 200
14.4
0
STD
SS55D23L
12.8
700
120
55
232 x 172 x 202 x 223
15.5
0
STD
SS55D23R
12.8
700
120
55
232 x 172 x 202 x 223
15.5
1
STD
SS65
12.8
810
150
65
298 x 190 x 172 x 192
18.5
1
STD
SS70
12.8
750
150
65
260 x 172 x 200 x 221
18.2
1
STD
SS70L
12.8
750
150
65
260 x 172 x 200 x 221
18.2
0
STD
SS70ZZ
12.8
900
170
75
303 x 170 x 201 x 222
20.8
1
STD
SS70ZZL
12.8
900
170
75
303 x 170 x 201 x 222
20.8
0
STD
SS36
12.8
490
80
40
206 x 174 x 173 x 173
11.6
0
STD
SS36T
12.8
610
90
45
207 x 174 x 190 x 190
12.6
0
STD
SS55
12.8
650
100
49
242 x 175 x 175 x 175
14
0
STD
SS55T
12.8
720
120
55
242 x 173 x 190 x 190
15.6
0
STD
SS55L
12.8
650
100
49
242 x 175 x 175 x 175
14
1
STD
SS66
12.8
790
140
62
278 x 175 x 175 x 175
16.8
0
STD
SS66T
12.8
810
150
65
278 x 175 x 190 x 190
17.8
0
STD
SS66TL
12.8
810
150
65
278 x 175 x 190 x 190
17.8
1
STD
SS75
12.8
820
160
70
314 x 174 x 175 x 175
19
0
STD
SS75T
12.8
870
170
75
314 x 174 x 190 x 190
20.6
0
STD
SS75TL
12.8
870
170
75
314 x 174 x 190 x 190
20.6
1
STD
SS88
12.8
900
190
80
351 x 174 x 173 x 173
20.6
0
STD
SS88T
12.8
990
210
88
351 x 174 x 188 x 188
23.5
0
STD
SS110T
12.8
1250
270
110
394 x 175 x 190 x 190
27.3
0
STD