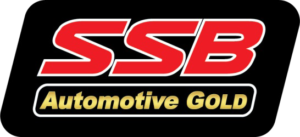 • High Performance Maintenance Free
  • Non-Spillable Sealed
  • Superior Cranking Power
  • Genuine Cast Calcium-Calcium MF
Unlike many who claim to have a maintenance-free battery, the SSB Automotive line is a Genuine Maintenance-Free in every respect. SSB Automotive batteries are filled and heat sealed at the factory so that you simply install this battery and virtually forget about it. No need to add water.
The SSB Automotive range has been developed to provide a Genuine High Performance Maintenance Free battery at an affordable price. Not to mention that its high cranking ability and reserve capacity will rival almost any high performance battery in Australia.
This Cast Calcium-Calcium battery has been developed in Australia by Australians to meet the ever increasing needs of the modern vehicle whilst standing up to our harsh environmental conditions.
The SSB Automotive range also boasts attractive colour coded labels to help the end users distinguish between popular automotive, European, 4WD and truck batteries.