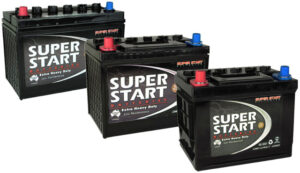 • Extra Heavy Duty
  • Low Maintenance
  • Impressive CCA & RC Capacity
 
Many of our customers have come to know the Super Start range as one of the most powerful conventional batteries in Australia that covers one of the most comprehensive automotive, 4WD & truck ranges available.
To complement its existing power we have redeveloped this range with the primary focus being to extend its life. Whilst we have maintained impressive CCA & RC ratings, the Super Start range is now being dubbed as "The Longer Life Battery".
This range looks much like its older counterpart however its internal construction has been redesigned to significantly increase its life & performance