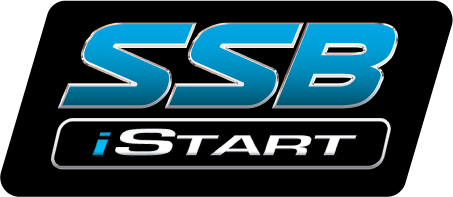 • Ultra High Performance
• Advanced 12 Volt AGM Stop Auxiliary
• Extreme Vibration Resistant
• 24 Months Warranty

SSB i-Start batteries have been specifically engineered for advanced vehicles featuring Start-Stop technology in our efforts to reduce carbon emissions. This is a product of our advocacy for sustainable clean energy, focusing our research and technology to protect our environment.
Using the latest OE Technology for Advanced Start-Stop Vehicles, including high-compression fleece separators, this Ultra High-Performance AGM battery boasts up to 4 times the cycle life of flooded Calcium-Calcium car batteries. It is also 100% Leak Proof and Spill-proof and is exempt from the Dangerous Goods classification.
Other features include powerful cranking power, high charge acceptance for absorbing large surges of electrical energy and high Vibration Resistance.
Whether you use SSB i-Start as a Start-Stop Battery or as a High-Performance 12 Volt AGM battery for regular vehicles (no Start-Stop Technology), the battery will deliver exceptional performance, flawless reliability, and longer life. SSB i-Start batteries are manufactured to Quality Assurance Standard ISO 9001 and come with 24 Months National Replacement Warranty.
When failure is not an option – use only SSB i-Start Batteries.
For our variety of SS-Ti batteries, other advantages include:
1. Higher temperature resistance and corrosion resistance are better than the type of die cast, because of the higher density of punch grid.
2. Different production process for punch gird, the consistence of batteries is better.
3. The conductivity of punch grid is better.
4. Higher automatic production line, higher efficiency, much more competitive on cost.
Click here to search for SSB i-Start batteries near me or download our brochure.