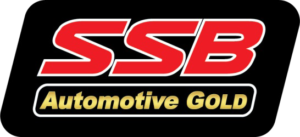 • Die Cast Grid Technology
• High Performance Maintenance Free
• Superior Cranking Power
• Non-spillable/sealed
The SSB Automotive Gold series is our premium range for automotive batteries. these Cast Calcium-Calcium batteries are developed in Australia by Australians to meet the ever-increasing needs of the modern vehicles whilst standing up to our harsh environmental conditions.
Featuring Die Cast Grid Technology, the plates are formed and casted in a mold that creates a solid, sturdier frame around each plate that protects its weaker inner components. This manufacturing process results in better conductivity of current, lower internal resistance, longer service life, and overall battery performance.
The SSB Automotive Gold series is a Genuine Maintenance-Free that are filled, and heat sealed at the factory so that you simply install virtually forget about it. No need to add water. SSB Automotive Gold batteries are manufactured to Quality Assurance Standard ISO 9001 and come with 36 Months National Replacement Warranty.